Airbus Innovation Award
Our Integrated Sensing solutions are proving its worth with our customers and development partners! In the last couple of years, we embarked on a challenging, ground-breaking journey together with SAAB. After having shown the robustness of FBG-based sensing using our PIC-based interrogators in a flight-tests and programs, we were trusted with, in a cooperation with SAAB, the development of a revolutionary high-tech sensing solution to monitor Overheat Detection System (OHDS) for the A350 platform, based on our state-of-the-art fiber sensing solutions. This innovative work has recently been recognized, by the granting of our customer with the Airbus Innovation Award.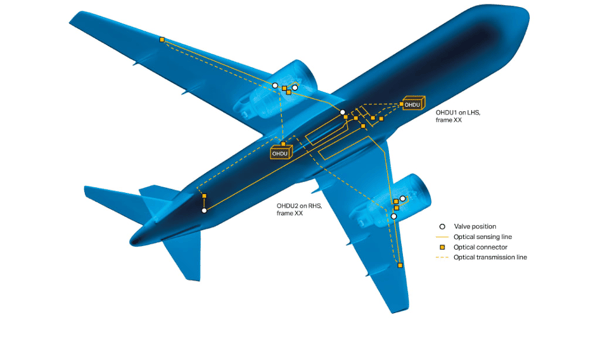 And innovative it certainly is! From pushing the boundaries in technical capabilities as the number of sensors that can be interrogated (in the thousands), to the furthering and maturation of our products and capabilities required for a demanding (harsh environment, high reliability) application .
Some key features of the system are stated below and more information on the application background can be found here https://www.saab.com/products/fiber-optic-bleed-air-overheat-detection-system

"Qualified for airborne applications as a bleed air overheat detection system, and will be introduced in all future Airbus A350 aircraft"

"Reduces the total number of components with 90% and the weight by 80% compared with present system"

"Actual measurements of the temperature with a very high temperature and spatial resolution, not only reacting to a set alarm threshold"

"A state of the art, cost effective system to measure temperatures in multiple positions of an aircraft structure"

Based on our heritage in fiber sensing solution and integrated photonics development, our creative, innovative, and cooperative capabilities, and with the toolsets of todays and tomorrows state-of-the-art technology, this success showcases what we at PhotonFirst can offer to you and your application needs, in a complementary way.

Contact us to see what we can do for your company!